Home
Staff
The Pulpit Committee
The Pulpit Committee
Finding, screening, and recommending candidates to the congregation in order to fill open pastoral positions.
---
This page will continue to be updated with info on the Pulpit Committee and the progress in filling the open pastoral position. Updates will also be posted on Facebook: facebook.com/CBCDerby/
---
Jon Durso and his family join the church. 
Sunday, October 27, 2019, Jon and Sarah Durso will join the church family of CBC! We are excited as Jon takes the position of Director of Discipleship. 
We'll have a gift card and money tree shower in the foyer for the Durso family on October 27. 
Caleb Bowman Installation Service
Sunday, November 3, 2019, will be a special emphasis on the transition from Pastor Holcomb to Caleb Bowman as our new Senior Pastor.
Pastor Holcomb, Pastor Fuller, and the deacons will be speaking in the morning and evening services.
After the evening service, join us for an all-church fellowship for both the Bowmans and the Dursos in the gym. Bring finger foods to share and stay for fun and games.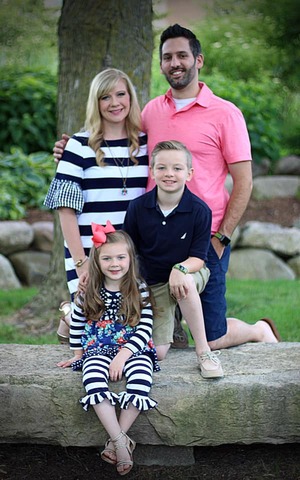 The votes are in! Sunday night, September 22, the members attending the special business meeting voted 185 – 5 to call Jon Durso to be the Director of Discipleship. Jon has accepted! Jon and his family are now in the process of selling their house in Michigan and buying a house here. While there is not a finalized date for their arrival, we expect them to move in the middle of October. Praise the Lord for His provision and continue to pray for this process.
---
*Director of Discipleship*
The original title for this position was Associate Pastor of Discipleship. Jon has not yet been ordained. According to our church's pastoral job descriptions, the title "Pastor" is only bestowed on those who have been scripturally ordained. If called, Jon's title will be Director of Discipleship until he is ordained. His ordination would take place soon if he is called. 
---
Jon and Sarah Durso
Kids: Hudson (8), Lily (5)
Purpose Statement:
I desire to serve the Lord in full-time ministry. My goal is to see others mature and grow in the wisdom and knowledge of our Lord Jesus Christ. (2 Peter 3:18). I believe that the only way to lead is to serve, and by God's grace, to be an example. My focus is discipleship, pastoral administration, and counseling while serving in the various roles of church ministry.
Personal Bio:
My wife and I were saved at early ages and were blessed to have grown up in godly homes with parents who loved and served the Lord. I was saved at the age of five, when the Lord convicted me of my sin and I knew that I needed a Savior. I later followed in believer's baptism as I grew in my knowledge and understanding of God and His word. Both my wife and I individually surrendered to serve the Lord vocationally while at summer camp during our teen years. Sarah and I met as college students at Northland Baptist Bible College. It was during my time there that the Lord further confirmed my calling to the ministry. We have enjoyed serving in various capacities within the local church since 2008. We believe that the best form of leadership is serving (Phil. 2:3). Our hearts' desire is to reach teens and young people with the Word of God. Loving God and loving others is our focus and our aim.
We currently reside in Michigan and have two children: Hudson (8 years old) and Lily (5 years old). We are so excited that both of our kids have accepted Jesus Christ as their personal Savior. Our prayer is that our children will also appreciate the privilege of serving the Lord in full time ministry. We love singing, camping, and staying active in our free time.
Ministry Experience:
• (2015-present) Faith Baptist Church, Warren MI
I have served as the student pastor to the K-12th grades. My main responsibilities have been teaching teen Sunday School, Wednesday night youth group, and biweekly activities. I run kids' activities and outreach events several times a year. I also organize and oversee annual events such as kids VBS, teen VBS, kids and teens camps, and other special trips for the students (college trip, mission's trips, etc). I have been involved in our choir, special music, orchestra, running elementary basketball and elementary soccer at the Christian School. I teach Bible in the Christian School and preach in both elementary and secondary chapels on a regular basis.
• (2011-2014) Calvary Baptist Church, Quincy MI
Assistant Pastor with the responsibilities of leading the youth group, overseeing all children's programs, leading congregational singing, overseeing the annual outreach banquet and conference's, filling the school administrators position, preaching monthly and in the senior pastor absentia, running the annual VBS, taking kids/teens to camp, other various administrative duties and serving wherever the senior pastor asks.
• (2008-2010) Calvary Independent Baptist Church, Chattanooga, TN
Part-time Youth Pastor teaching teen Sunday School, Wednesday night youth group, monthly activities, monthly after-glows, summer camp, service activities, and serving in various other areas in the church such as: nursery, song leading, music, outreach, hospital calls, etc.
• (2008) First Baptist Church, Sterling Heights, MI
Taught Teen Sunday School, taught in youth group, led songs and games in youth group, sang in the choir, planned and oversaw monthly activities.
• (2005, 2006) The Wilds Camp and Conference Center, Brevard, NC
Camp counselor for both teen and junior summer camps.
---
Who is the Pulpit Committee?
3 pastors
5 deacons (entire Deacon Board)
1 trustee representative
From the CBC Constitution:
ARTICLE V – PASTORAL RELATIONS
The calling of a Pastor shall be done in all cases by ballot by a three fourths majority of the membership present at a business meeting; announcement of which has been given at least two weeks prior to the business meeting. Only one candidate shall be presented to the church at one time.
The Pastor(s), Deacon Board, and a representative from the Trustee Board shall act as a Pulpit Committee. They shall have authority to contact prospective Pastors for recommendation to the church.
Check out these documents.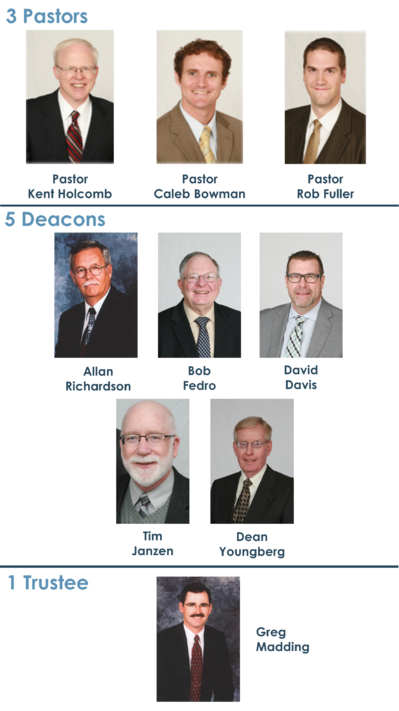 ---
May 2019 Update
---
The Pulpit Committee Process
In September of 2017, Pastor Kent Holcomb announced his future retirement from the position of senior pastor at Calvary Baptist Church. His retirement was set for October 2019. 
In December 2017, the members of Calvary Baptist Church called current youth pastor, Caleb Bowman, to be the next senior pastor. 
The pulpit committee was formed and began the search. The men on this committee put in many hours of research, phone calls, and emails to find potential candidates who met the qualifications. 
The process implemented by the pulpit committee is the process that is outlined in the church constitution. It's the same process that the Lord used to lead us to Pastor Bowman and Pastor Fuller. It's time-tested and the Lord has blessed its practice. 
We hope that through understanding the rigors of this process, you will gain confidence as you determine the final outcome through your vote. 
---
Preparation 
Roundtable meetings with the Pulpit Committee - an opportunity for church members to discuss questions and concerns with the Pulpit Committee
Open Application & Initial Contacts
The application was made available online and on paper.
Contact was made with organizations and individuals who might know of potential candidates including:
Several Bible colleges and seminaries
Several church associations and fellowships
Individual pastors and Bible college officials
Many potential applicants showed interest and contacted us, or the pulpit committee reached out to them to inquire if there was interest.
Filters
The filtering process insured that the applicant was qualified for the position as well as be a good fit at CBC. Filters included the following:
Contacted references
Conference call with pulpit committee
 A successful applicant will complete at least two weekend visits for interaction with CBC. These are some possible activities while he is here:
1st Face-to-face Visit - Applicant
Q&A session with congregation
Dinner with families of deacons, pastors, and office staff. 
Meet and Greet with members
Teaching an ABC group
Preaching in Auditorium Sunday Morning
Meetings with ministry leaders
Feedback from 1st visit
Feedback surveys from the congregation
In-person comment event with the pulpit committee
Pulpit committee evaluation to proceed or terminate the process
2nd Face-to-face Visit - Official Candidate
Meet and Greet with staff and congregation
Preaching, teaching, and serving with church ministries
Pulpit Committee interview
Feedback from 2nd visit
Feedback surveys from the congregation
Recommendation
After the conclusion of the candidating weekends, the Pulpit Committee will evaluate and determine whether to recommend the candidate to the congregation for a vote.
If the candidate is not recommended for a vote, then the Pulpit Committee will proceed with other candidates. 
If the candidate is recommended, then a special business meeting will be called for the purpose of voting on whether or not the candidate will be called to fulfill the position. 
Congregational Vote
The final step. The congregation will vote yes or no to call the candidate to fulfill the position. 
---