Pastor Caleb Bowman
Caleb joined the Calvary staff as Youth Director in May of 2007 after graduation from Faith Baptist Theological Seminary with a Master of Arts in Biblical Studies. Caleb was ordained for the ministry in 2009 and served as the Youth Pastor until November 2019 at which time he was called to be Senior Pastor of Calvary. Caleb and his wife Amie serve together, teaching classes and coordinating activities that encourage  people to serve God, love His people, and walk with Him. Caleb and Amie have three children.
Associate Pastor of Music, Robert Fuller III
Robert Fuller III, a native of Minnesota, graduated from Pillsbury Baptist Bible College in 2004 with a B.S. in Bible and Music. Rob completed a Master of Arts degree in Biblical Counseling in 2018 from Maranatha Baptist Seminary. In October of 2007, Rob joined the staff as Music Director at Calvary. He was ordained for the ministry in August of 2012, and now serves as Associate Pastor of Music. Rob's focus in the ministry is to cultivate an environment where God's people do truly worship Him "in spirit and in truth." Heidi, Rob's wife, is a great asset to the music ministry as well as a loving mother to their five children.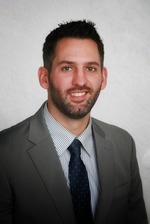 Associate Pastor of Discipleship, Jon Durso
Jon's goal is to see others mature and grow in the wisdom and knowledge of the Lord Jesus Christ. (2 Peter 3:18). He studied at Northland Baptist Bible College and received a B.A. in Youth Ministries in 2008. He has served at churches in different capacities since his graduation. He is pursing a Masters in Biblical Counseling as he serves as Associate Pastor of Discipleship at Calvary. He was ordained for the ministry in 2020. Jon and his wife, Sarah, believe the best form of leadership is through service. They have served at Calvary since October 2019. Jon and Sarah have two children.
Pastor Emeritus Kent Holcomb
Pastor Kent Holcomb served as senior pastor at Calvary Baptist Church from 1978 - 2019. He retired from the position of senior pastor in November of 2019. He is a native Kansan and graduate of Hutchinson Community College (1973) and Wichita State University (1975). For pastoral studies, he attended Montana Institute of the Bible, graduating in 1978. He and his wife Virginia have five children and seven grandchildren.