Resurrection Sunday 2018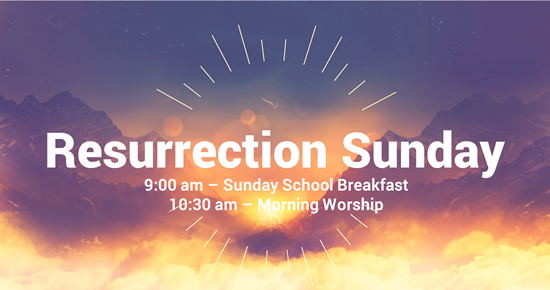 Celebrate the Resurrection of our Lord Jesus Christ!
April 1, 2018
Beginning at 9:00 am, join us in the gym for the Sunday School Breakfast. A free continental breakfast will be provided for all ages. The breakfast will include ham cubes, cheese cubes, nuts, hard-boiled eggs, sweet rolls, and fruit. Juice, coffee, and tea will also be available.
When the lesson begins, children age 2 and under are welcome to attend the child care provided in ParkPlace. All other classes (3 year olds through adults) will remain in the gym for a combined lesson time. 
At 10:30, morning worship begins in the auditorium. Praise the Lord with the choir as they present Wondrous Love, a cantata that speaks of the Suffering Servant, Crucified Christ, and Risen Redeemer!
We hope you will join us this Resurrection Sunday!