Mission Conference 2017: To the Ends of the Earth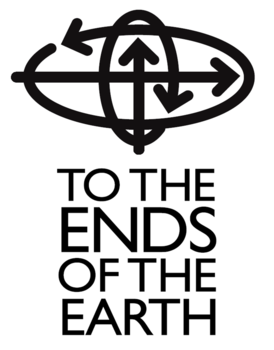 October 1-4, 2017
To the Ends of the Earth
Acts 13:47

For so the Lord has commanded us, saying,

"'I have made you a light for the Gentiles, that you may bring salvation to the ends of the earth.'"
---
Missionary Sam Slobodian, director of BIEM (Baptist International Evangelistic Ministries), joins us as guest speaker. Accompanying him are two pastors from Ukraine and two pastors from Russia. 
During the conference, we'll hear reports from missionaries and pastors, sing mission-centered songs, listen to messages from Sam Slobodian, have dinner together with the church family, and interact with workers serving in other parts of the world. 
What you can do right now:
We are collecting items to send to Christians in Ukraine. BIEM packs a cargo container full of useful supplies and ships it to Ukraine to help new churches, rehabilitation centers, and camps.
Donate new or gently used items - garage sales are a great place to find some of these items. 
Look for the collection bins in the main church foyer.
Towels, single sheets, blankets, pillows & pillow cases
Sleeping bags, tents
Hand tools and gas powered tools
Garden tools (rakes, shovels, pitchforks, hoes)
Fitness equipment
Floor hockey, soccer, volleyball, ping pong & foosball supplies
Musical instruments and music stands
Medical supplies, especially wheelchairs (but no medicine)
---
Conference Schedule
| | | | | |
| --- | --- | --- | --- | --- |
| Sunday | Sunday School | 9:15 am |   |   |
|   | Morning Service | 10:30 am |   |   |
|   | Evening Service      | 6:00 pm |   |   |
|   |   |   |   |   |
| Monday | Dinner | 5:30 pm | Service | 6:30 pm |
| Tuesday | Dinner | 5:30 pm | Service | 6:30 pm |
| Wednesday      | Dinner | 5:30 pm       | Service    | 6:30 pm |
---
Guest Speaker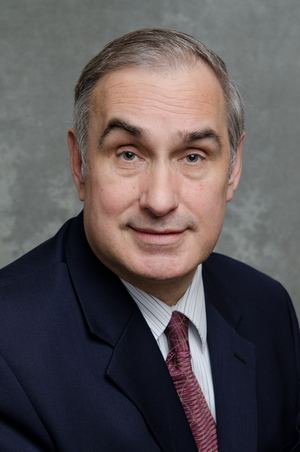 Dr. Sam Slobodian
Missionaries Sam and Amy Slobodian have served with Baptist International Evangelistic Ministries, (BIEM) since 1982. Sam directs the ministry of BIEM as President and Amy works in the mission office. Sam's trumpet playing is heard on Christian radio stations through CD recordings entitled "Sound the Trumpet".

BIEM has been reaching Russia and Eastern Europe since 1981. Headquartered in the Indianapolis area, BIEM focuses on evangelism, church-planting, training nationals and Gospel literature distribution in the former Soviet bloc. Evangelism through missionary radio was the initial focus of this ministry in the early years. Church Planting became the main focus of BIEM in 1992. The radio ministry and many trips behind the Iron Curtain provided BIEM with ideal contacts for planting churches in Russia and Ukraine. BIEM's approach to fulfilling the missionary mandate in Russia and Eastern Europe features the support, training and equipping of dedicated and prepared nationals.

Through this partnership of an American prayer and support base with national Christians and churches, BIEM has been able to reach countless souls and has planted churches in Russia and Eastern Europe. In 2005, BIEM expanded into the Muslim stronghold of Central Asia (Tajikistan, Kyrgyzstan, Turkmenistan, Uzbekistan, and Kazakhstan). In 2007, BIEM made further expansion into Belarus and Western Asia. More recently BIEM added the field of Latin America.

Many of the 104 churches established through this ministry are now self-supporting and we are on our 51st church building program. BIEM's efforts also include training over 300 Russian and Ukrainian national pastors, missionaries and Christian workers through schools established at various locations.
---
Special Guests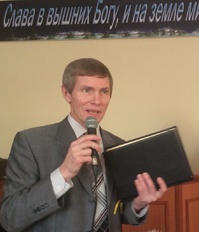 Pavel Rumachik is the son of the famous Russian pastor Peter Rumachik, who served 18.5 years in Soviet prisons and labor camps for Christ. When freedom came to the USSR in 1991, Pavel was one of many Russian men who used that freedom to evangelize.
Working with BIEM, Pavel became one of the ministry's very first missionaries in Russia. With God's blessing, his first church plant reached the very cultural center for which his father and four other men were imprisoned in their attempt to spread the gospel.
Next he planted a church in Nahabino.  This church developed a special ability to reach drug addicts and alcoholics that led to the establishment of a drug and alcohol rehabilitation center.   This successful outreach led to the creation of multiple Christian rehabilitation centers.  Today there are over 30 families in Moscow-area churches where the father has been reached through this ministry.
---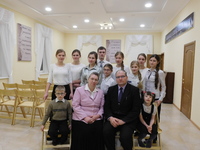 Andrei Yudintsev comes from a family that experienced persecution during Soviet times. Both his father, Vasiliy, and his mother, Serafima, experienced arrest and imprisonment for their faith. Being their eldest son, Andrei likewise came under scrutiny by the Soviet authorities. The Soviets arrested and imprisoned him, too, even before he was out of his teenage years. He became one of the youngest prisoners for Christ and served 3.5 years for his active Christian faith.   
Until recently, he was a church planter in Siberia, but in 2015, he was recruited by Pastor Peter Rumachik. Andrei accepted the call to become the missionary pastor in Shahovskaya, Russia, in the western Moscow region.   
Andrei and his wife Zara have been blessed with 12 children. (Their eldest son remains in the Kemerovsky district of Siberia, where he pastors a church.)
---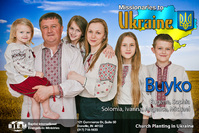 Eugene Buyko serves as BIEM's director in Ukraine. He oversees BIEM's team of church planters and children's workers there. He has been instrumental in helping church planters to get established even in difficult areas. Eugene is exceptionally gifted in navigating governmental bureaucratic requirements for projects such as shipping 40-ft. containers of humanitarian aid,purchasing property for church buildings, and organizing BIEM's Ukrainian camping program, which involves over 1,000 campers in several camps.
Eugene is planting a new church in Bilogorodka, a suburb of Kiev, the capital of Ukraine. In this rapidly growing area, the mayor gave land for this church to be built.
---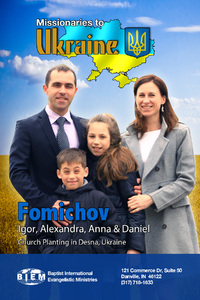 Igor Fomichov grew up in a military family in Desna, one of the largest military bases in the Soviet Union.  This is the military base where BIEM was able to plant a church after the Iron Curtain came down and freedom came to these formerly Communist areas. 
Igor became a part of this church after he was saved from a life of drugs and crime. As Igor grew in his Christian faith, he became heavily involved in ministry, was called to preach, and pursued ministry training.  When the original church planter moved on to plant another church, the congregation in Desna called Igor as pastor.  Sixteen people reached by this ministry were called to full-time ministry.  Because of this, the church has planted two other churches and is now launching a third.