Join us this Christmas Season!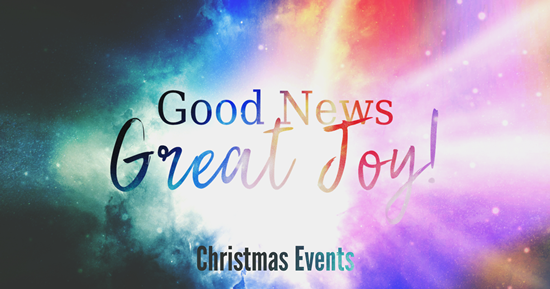 Good News...Great Joy
Christmas at Calvary is a special time to remember the birth of Jesus Christ our Lord and Savior. The announcement of His birth gave hope to a world bogged down by sin and despair. We hear this good news and can have great joy when we receive God's gift of salvation!
And the angel said to them, "Fear not, for behold, I bring you good news of great joy that will be for all the people. Luke 2:10
---
No Wednesday Prayer Service or Awana Clubs on December 25 or January 1.
All Church Events
December Communion
Sunday, December 1  |  10:30 am
Communion during the Christmas season reminds us of the birth of the Child in Bethlehem and the death of the Man of Sorrows on the cross. 
---
Hymn Sing-Along Carols
Saturday, December 7  |  6-8 pm
Everyone is invited to join us at the church building in room E15-17 as we sing hymns and carols. This is a come-and-go event; come when you can, leave when you need to. Contact Rocky or Marianne Slagle with questions. 
---
Caroling and Soup Supper
Saturday, December 14  |  4:00 pm
Caroling @ 4:00 - Dress warm! We'll meet in the church gym and divide into groups to carol to the community at Derby Marketplace and visit nursing homes and shut-ins. The church vans will be available to transport some carolers, but the rest need to be prepared to follow in personal vehicles or carpool with others.
Soup Supper @ 6:00 - Join us back at the church gym after carolers return. Bring soup or chili along with the fixin's (cheese, crackers, sour cream) and a dessert. Bring enough to feed your family plus a few extras. Drinks and dinnerware will be provided.
Please note: Caroling has been moved to Saturday afternoon in order to better coordinate with the schedules of those we minister to.
---
Annual Christmas Food and Gift Shower for our pastors and their families
Sunday Evening, December 15
Show your love and appreciation for the Holcombs, the Bowmans, the Fullers, and the Dursos, by bringing food or gifts to the kitchen on Sunday evening. Contact Darrel Cotton with questions.
---

Christmas Choir Cantata
A Celtic Christmas Celebration
Sunday, December 22  |  6:00 pm
The Calvary Choir revisits the Christmas story using the captivating Celtic musical language. There's something wonderfully compelling about Celtic music with its lively rhythms from the hoop drum and the stylistic ornamentation used by the whistles and pipes. It's unique and joyous music. What better way to tell the joyful story of Christmas!
---
Ministry Group Activities
Blessings Ladies (widows and single women over age 50)
Christmas Celebration
Saturday, December 14  |  12 noon
The Blessings ladies are invited to a Christmas celebration at Victoria Tully's home. A white elephant gift exchange and surprise entertainment are planned. 
Please bring a new or gently used, wrapped gift and your favorite Christmas dish (meat will be provided). Sign up on the Blessing bulletin board across from the church Library. Contact Joyce Mann with questions.
---
Keenagers
Christmas Soup Supper and Gift Exchange
Saturday, December 21  |  4:30 pm
Join us in the church gym for some good food and fellowship at our annual Soup Supper & Gift Exchange. 
Sign up on the Keenager bulletin board (down the west hallway) and indicate what food you plan to bring. Each person is asked to bring a gift ($10 or more) to exchange. Contact Darrel Cotton with questions. 
---