Empowered to Connect Simulcast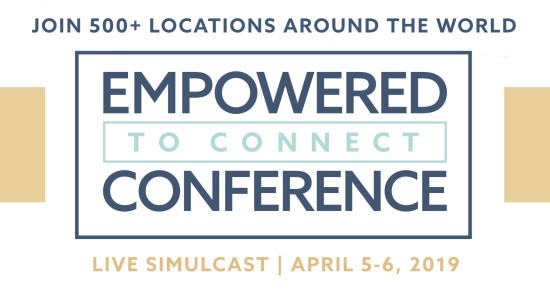 April 5-6, 2019
Friday: 9 am - 5 pm
Saturday: 9 am - 5 pm
Doors open at 8:30 am
Cost: $10 (pay at the door)
Registration deadline is March 31. 
Come experience this live, two-day simulcast which is designed to help parents, mentors, ministry leaders, and professionals who work with children.
Session topics include skills to connect with your child, techniques to empower them to make good decisions and correct bad behaviors, and understand how trauma affects children from hard places.
This conference is specifically geared for adoptive and foster parents, however, it can be a great benefit for anyone working with children and for parents training their own biological children.
Featuring Trust-Based Relational Intervention® methods developed by Dr. Karyn Purvis 
and Dr. David Cross from the Karyn Purvis Institute of Child Development at TCU to 
help bring attachment and connection in families. For more information about the conference and the speakers, visit the Empowered to Connect Conference Website
Professionals interested in receiving hours and a professional certificates are required to register with Show Hope and pay a separate fee. This is handled through the Show Hope organization. Visit 
www.showhope.org/ceu for more information. We will have the needed paperwork on hand to track attendance. 
Simulcast at Calvary Baptist Church 
The simulcast begins promptly at 9 am. We'll open the doors at 8:30 am. 
Sign up below to let us know you are planning to attend and so we can get you a workbook. 
The simulcast is 9 am - 5 pm both Friday and Saturday (11 total hours of training). You can attend as few or as many sessions as your schedule allows. Check the schedule below to see all the sessions.
No childcare will be provided during the simulcast.
The simulcast will be in the Auditorium. Parking is available in front of the church in either the east or west parking lots. Enter the building through the main foyer entrance at the drive-under canopy. 
The simulcast will be in the Buffet Room, located near the Fellowship Hall.
Park in the east parking lot and enter through the Gym entrance (glass foyer). Look for the Empowered to Connect sign.  
Snacks will be provided during the morning and afternoon breaks. Lunch will be on your own. Many restaurants are located nearby, or you are welcome to bring a lunch.
Thank you for your interest in this important topic. We are glad to be able to offer this simulcast and we hope to see you there!
---
Registration has closed.
Registration deadline: March 31
Schedule
Day 1 – Friday, April 5
9:00 – Welcome and Introductions Dan and Terri Coley
9:15 – TBRI & Trauma Daren Jones
10:30 – Break
10:45 – TBRI & Trauma: A Family Perspective Mark and Tona Ottinger
11:45 – TBRI & Trauma: Wrap-Up Daren Jones
12:15 – Lunch (1 hour and 15 minutes)
1:30 – Connecting Part One Amanda Purvis
3:00 – Break
3:15 – Connecting Part Two Amanda Purvis
3:45 – Connecting Through Play Cindy Lee
4:45 – Closing Remarks Dan and Terri Coley
Day 2 – Saturday, April 6
9:00 – Welcome and Review of Day 1 Daren Jones
9:30 – Empowering Sarah Mercado
10:30 – Break
10:45 – Empowering: An Occupational Therapist's Perspective Marti Smith
11:45 – Empowering: Wrap-Up Sarah Mercado and Marti Smith
12:15 – Lunch (1 hour and 15 minutes)
1:30 – Correcting Amanda Purvis
3:00 – Break
3:15 – Correcting: A Family Perspective Mark and Tona Ottinger
4:15 – Correcting: Wrap-Up Amanda Purvis
4:45 – Closing Remarks
---