Easter 2021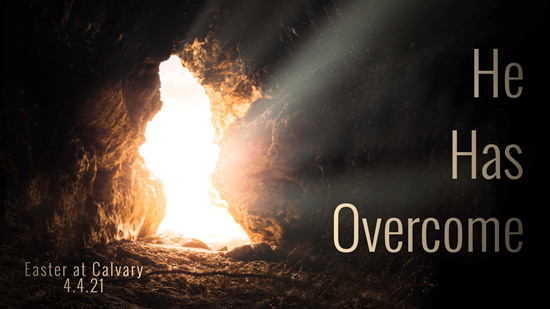 Overcome.
Jesus has overcome sin, death, and the grave. Praise the Lord with us this Easter!
The choir is planning wonderful music to help us lift our hearts to the Lord in celebration. And Pastor Caleb Bowman will proclaim the power of the resurrection from Philippians 3.
Join us for regularly scheduled Adult Bible Communities and Calvary Kids Sunday School at 9:15 am.
The Morning Worship Service begins at 10:30 am and you are invited!
We have canceled our Evening service on Easter Sunday and are encouraging you to use that time to reach out to someone who needs Christ.
· Invite a neighbor or coworker to the service and to join you for dinner
· Have a neighbor over for dessert and coffee that evening
· Take a friend to dinner that afternoon or evening
Plan and pray now that God will work through this outreach!
Find the latest info on the Facebook Event page
---