Volleyball Bonanza! - 20s&30s/Youth Ministry Event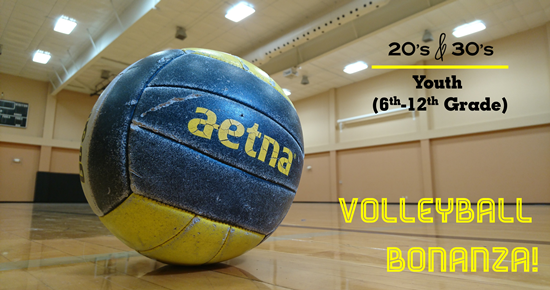 Volleyball Bonanza!
Saturday, February 3
5:30 - 8:00 pm
CBC gym
Sign up on Facebook or on the church bulletin board
Youth (6th-12th Grade) and 20's&30's, we're going to have a great time at a combined 20s&30s / Youth Ministry event!
Pizza
Volleyball
Party Games (for those who don't want to play volleyball)
Devotion
Sign up by January 28. Sign up on the church bulletin board or Facebook 
If you have any questions please contact Pastor Bowman:
Cell: 655-3148, Email: bowman@cbcks.org
Child Care: CBC Approved Child Workers will provide free on-site child care for any 20's&30's parents who would like to attend.
Please sign up your children on the bulletin board. Include your child's name and age. 
The children will not be eating pizza with those who attend the activity so please bring a sack dinner for your child.